The Helvetia Community Association Market
Browse through our selection of locally-produced products ... all with a Helvetia flair! Our products make great gifts, or just use them to show your support for Helvetia! 100% of your purchases go to support Helvetia Community Association's preservation projects.
After you've shopped the market, use our handy online order form to place your order. PLEASE NOTE: All items must be picked up at the HCA office unless other arrangements are made in advance. We will contact you when your order is ready for pick-up.
Special orders: Don't see a color you like? Call (503) 647-5334 for more choices. Apparel sizes 2XL through 6XL also available for a $5.00 additional charge. Contact us for personalized service.
'The Tualatins' book, by Ginny Mapes – $30
Ginny Mapes, local history writer, documents the pre-settlement life of the Atfalati/Tualatin People using early explorers' journals and drawings, contemporary tribal advisors, local settlers' maps and found artifacts from Helvetia, Oregon.

Full-color, 81 pages, spiral bound.

Price includes shipping and handling.
TWILL CAPS with barn logo – $15
Helvetia's signature logo is on the front of this classic 100% cotton twill cap. Its structured shape features an adjustable hook and loop closure for maximum comfort. Buy several colors to match the occasion!
Available in Black, Khaki, Hunter Green, Purple, and Red.
Sizes: One size fits all.
Availability: 3 weeks.
T-shirts – $20



Wear one of our signature short sleeve T-shirts and show your pride in Helvetia! Choose from our very cool "Helvetia Community Association" shirt, or the classic Save Helvetia "Protect Farmland" design. Our shirts are made from durable 6.1-ounce, 100% pre-shrunk cotton and feature double-needle sleeves, hem and collar. You're going to want at least one!!
Our new black and charcoal gray shirts must be seen to be appreciated! A special print process makes our historic barn design luminescent against the rich black or charcoal gray background.
Available in Yellow Haze, Light Blue, Natural, or White.
HCA design also available in Black or Charcoal ($5 additional charge).
Sizes: Adult Small thru XL.
Availability: 3 weeks.
Helvetia Hooded Sweatshirts – $40


Warm up for winter and support Helvetia! Our hooded sweatshirts are available with either our cool "Helvetia Community Association" barn design, or the classic Save Helvetia "Protect Farmland" design. These high-quality pullover hooded sweatshirts by Hanes are made from 10-ounce 90% cotton fleece and feature a two-ply hood with grommets, dyed-to-match drawcord, and front pouch pocket.
Available in Light Blue, Ash Gray, or White.
HCA design also available in Black ($5 additional charge).
Sizes: Adult Small thru XL.
Availability: 3 weeks.
HELVETIA NOTE CARDS – $10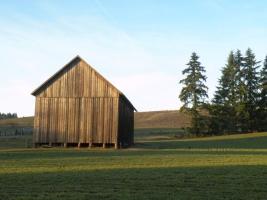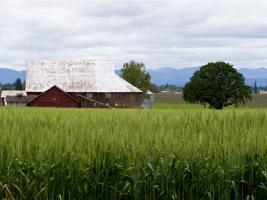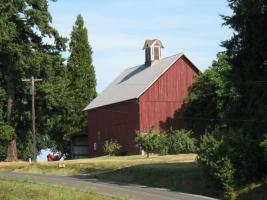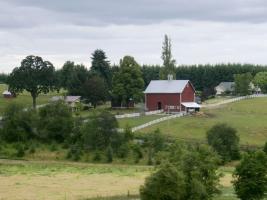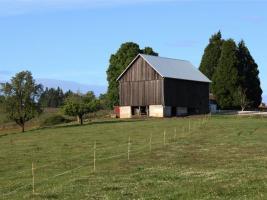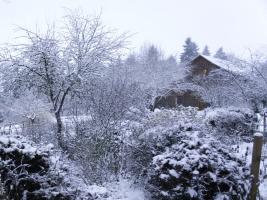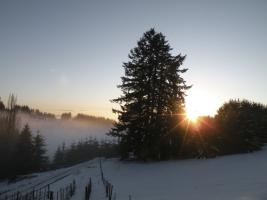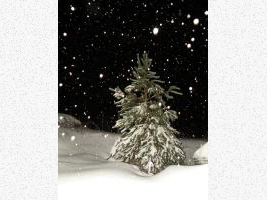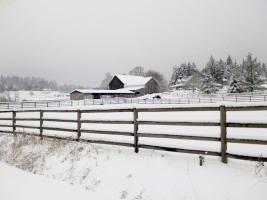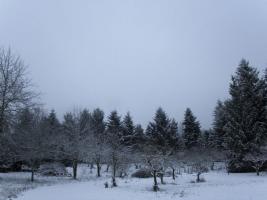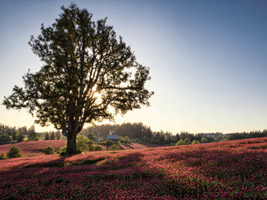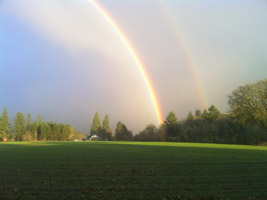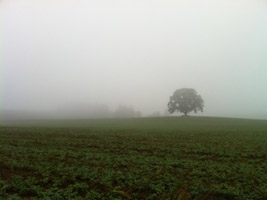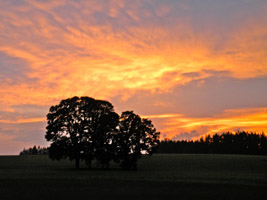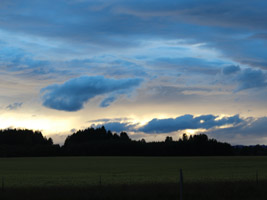 Our elegant note cards feature beautiful scenes from Helvetia. These are excellent all-occasion cards with blank insides. Each pack contains five cards, each with a different scene. Choose from Historic Helvetia Barns, delightful Helvetia Winter Scenes, or dramatic Skies Over Helvetia. Ideal for gifts, stocking stuffers, welcoming new neighbors, and Christmas cards – you'll think of many uses for these unique cards!
Availability: in stock.
Are you interested in larger quantities of a specific image – either one of ours, or one you have taken – perhaps for Christmas cards? Contact us for pricing and availability.
LICENSE PLATE FRAME with 'Helvetia' in text – $5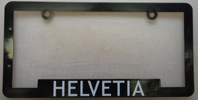 Show your pride in Helvetia with our black license plate frame with "Helvetia" printed in white text.
Colors: Black with white text, black with red text.
Availability: in stock.