— Sorry… No Culture Fest in 2017 —
After eight years of amazing Helvetia Culture Fests, we are taking a break for 2017. We have thoroughly enjoyed sharing our unique culture, heritage and history with friends and neighbors in Helvetia as well as visitors from all over the world, and we hope to continue this fun tradition in the future.
We are grateful for all our wonderful volunteers and vendors who have worked with us over the past eight years to make each annual Helvetia Culture Fest a success.
This year we are catching up on some very important projects, sponsored by Helvetia Community Association and a grant from the Washington County Cultural Coalition.
We are creating tours of the special landmarks of the Helvetia area so that visitors can learn more about Helvetia as they bike or drive through Helvetia.
We are expanding our first edition of "The Tualatins," our first book about the Tualatin people in the Helvetia area, with newly discovered information never before published. Our second edition will be available through the Helvetia Community Association (HCA) website in August, 2017.
We are sponsoring a newly designed website to showcase our heritage: HelvetiaHeritage.org. This website will feature cultural tours as well as the stories of Helvetia's first families - early pioneers, settlers and Swiss-German immigrants. Still a work in progress, its flexible design by our historian-author Ginny Mapes will allow more stories to be added in the future.
We are excited about our 2017 projects and encourage you to check them out!
Events and activities
Helvetia events
Come out and enjoy some of the special events that take place in Helvetia every year!
Activities
Helvetia Community Association offers a number of programs and activities designed to share the rich cultural and historical heritage of the Helvetia, Oregon area.
Tours
We offer TOURS of the special landmarks of the Helvetia area so our visitors can learn more about Helvetia as they bike or drive through Helvetia.
Below are two downloadable PDFs presenting maps and commentary for self-guided routes past farms and historic points of interest.

Warning notes for bicyclists:

There are no bike lanes or shoulders on roads in Helvetia
The speed limit for cars is 55 mph on most roads
Part of Dick Road is graveled, and
Cornelius Pass Road is especially dangerous with heavy car and truck traffic at high speeds.
To request a guided tour, call 503-647-5334. A special benefit of our organized, guided tours is to enjoy our advanced arrangements for stops at selected sites along the way. When touring on your own in rural areas, please practice courtesy and caution, and respect private property.
Books
BOOKS about the native people and early pioneers and settlers in the Helvetia area are for sale in the Market area of our site.
Helvetia's history and heritage
Our latest project is to create a site dedicated to the HISTORY of the Helvetia area.
Presentations to schools and groups

Throughout the year, we present educational talks about Helvetia's history, heritage, farming, events and other topics of interest to various groups. A presentation entitled "Helvetia, Our Sustainable Treasure" was recently made to Helvetia's local high school. Click the title or the image to the right to view it. (Warning: 120MB PDF file.)
Conservation easements
HCA is entrusted with conservation easements in the greater Helvetia area. These easements protect farm and forest land in perpetuity while providing tax advantages to the property owner. Learn more about conservation easements, or contact us for more information about creating a conservation easement in Helvetia.
Helvetia Culture Fest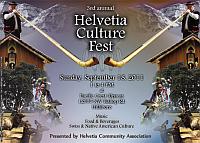 Helvetia Community Association is proud to host the "Helvetia Culture Fest". Held in the heart of Helvetia, the Helvetia Culture Fest (HCF) celebrates the historic cultural diversity of the Greater Helvetia area.
The goal of the Helvetia Culture Fest is to educate the public about the rich cultural and historical heritage of the Helvetia area while raising funds for our preservation and conservation efforts. Performers and local businesses donate their services and volunteers donate their time to offer a fun family event.
"Helvetia Community Highlights" newsletters
From time to time, we create newsletters and present them at various community meetings, including the Hillsboro City Council. Their purpose is to highlight activities in Helvetia and underscore Helvetia's value to the region as an agricultural, historical, and recreational resource.